An outdoor park in Armenia called Yell Extreme Park held a press conference on May 3. The purpose of the conference was to discuss a crowdfunding campaign to build the world's longest zip-line. The Park is located in Yenokavan village in the Tavush region, South of Yerevan, the Capital of Armenia. The population of community is 612 people. Most are employed with cattle and agriculture. Zarmine Zeytuntsyan, Chairperson of the State Committee of Tourism of Armenia and Tigran Chibukhchyan, founder of Yell Extreme Park have presented the idea of the world's largest zip-line as a way to boost Armenia's tourist industry. They say that the project will help create job opportunities for the local communities. According to Yell Extreme Park over the last 10 years, stable tourism growth has been recorded in the community, which has led to the improved of social conditions in the villagers. Zeytuntsyan says the main purpose of the project is to raise international public awareness for Armenian tourism.
The length of the zip-line flight will be about 3 minutes in duration.  The maximum speed of the zip-line will be 120 km/h (75 miles/h). The Yell zip-line will be 2680 meters (8,800 feet)  in length and will be high 200-300 meters  (650-1,000 feet).  This will beat the longest zip-line \in the Guinness Book located in Puerto Rico, and the actually longest zip-line is in Mexico with length of 2545 meters. The idea of building the world's longest zip-line has been a goal of the "Yell Extreme Park" team since its inception. The funding of the project has almost reached $4,000 of its $20,000 goal.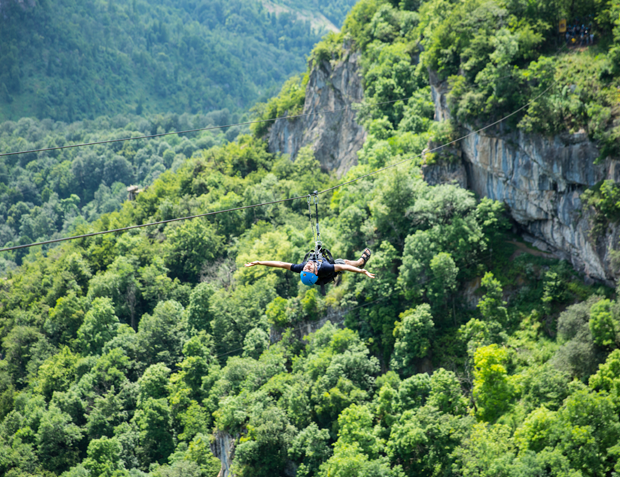 Hairenik. "World's Longest Zip-Line to Be Constructed in Armenia." The Armenian Weekly, 4           May 2017, armenianweekly.com/2017/05/04/worlds-longest-zip-line-to-be-constructed-in-       armenia/. Accessed 4 May 2017.